Post-workshop report, November 2017

Indigenous Geographies and Caribbean Feminisms: Common Struggles Against Global Capitalism
Organisers
Levi Gahman (Department of Geography, University of the West Indies)
Gabrielle Hosein (Institute for Gender and Development Studies, University of the West Indies)
The workshop
From Thursday 30th March to Saturday 1st April 2017, the Institute for Gender and Development Studies and Department of Geography at the University of the West Indies (Trinidad and Tobago) hosted the workshop "Indigenous Geographies and Caribbean Feminisms: Common Struggles Against Global Capitalism". The symposium was convened in the spirit of the activist Berta Cáceres and brought together Indigenous leaders and organizers from Akawaio, Garifuna, Kalinago, Lokono Arawak, Macushi, Maho, Mopan Maya, Q'eqchi' Maya, Wapichan, and Warrau First Peoples' communities. Select university scholars from both the Global South and the Global North also attended, meaning the gathering was comprised of contributors from the countries of Guyana, Suriname, Dominica, Belize, Honduras, Trinidad and Tobago, Martinique, Saint Vincent and the Grenadines, Canada, and the United States.
Presentations (some of which were filmed, and are available via the links below) focused on confronting and organizing against state-sponsored land grabbing/dispossession, corporate mining and logging, political marginalization, the sexual exploitation and trafficking of Indigenous women and girls, and ongoing unchecked violations of Free, Prior, and Informed Consent. Additionally detailed were efforts Indigenous organizers are engaging in towards sustainable development, cultural preservation, language revitalization, and the creation of alternative economies. Stories of community mapping to acquire land title and place-based practices of traditional agro-ecology, ecosystem protection, and food security were also given.
The first day of the symposium consisted of three panels. Session One, comprising Norma Thomas (Guyana), Audrey Christiaan (Suriname) and Hollis France (Guyana), emphasized activism against capitalist exploitation and state repression. The second panel focused on recognition, representation, and transformation, with Mary Valenzuela (Guyana), Natasha Green (Dominica), Sharon Atkinson (Guyana) and Jean LaRose (Guyana) all speaking front and centre. The final group foregrounded gender justice, as well as women's advocacy and empowerment, with Annelita Garcia (Belize), Nelcia Robinson (St. Vincent and the Grenadines), and Marie-Josee Artist (Suriname) presenting. The gathering continued smoothly onto the second day with three more panel sessions, the first of which featured a keynote presentation by Shona Jackson. Jackson, author of Creole Indigeneity (University of Minnesota Press, 2012), explicated upon power relations and material products emerging from the nexus of postcolonial nationalism, labour discourses, and the marginalization of Indigenous communities in Guyana. This was followed with a slate of presentations given by Aleisha Holder (Trinidad and Tobago), Selene Solis (Belize), Sandra Miranda (Belize), and Cynthia Ellis (Belize) that focused on the preservation of Indigenous cultures, heritage, and traditions. The final session examined the ongoing effects of colonial history on contemporary social relations and environmental issues, with Melanie Newton (Canada), Cheryl-Ann Boodram (Trinidad and Tobago), Vanda Radzik (Guyana), and Tracy Assing (Trinidad and Tobago) all providing insight.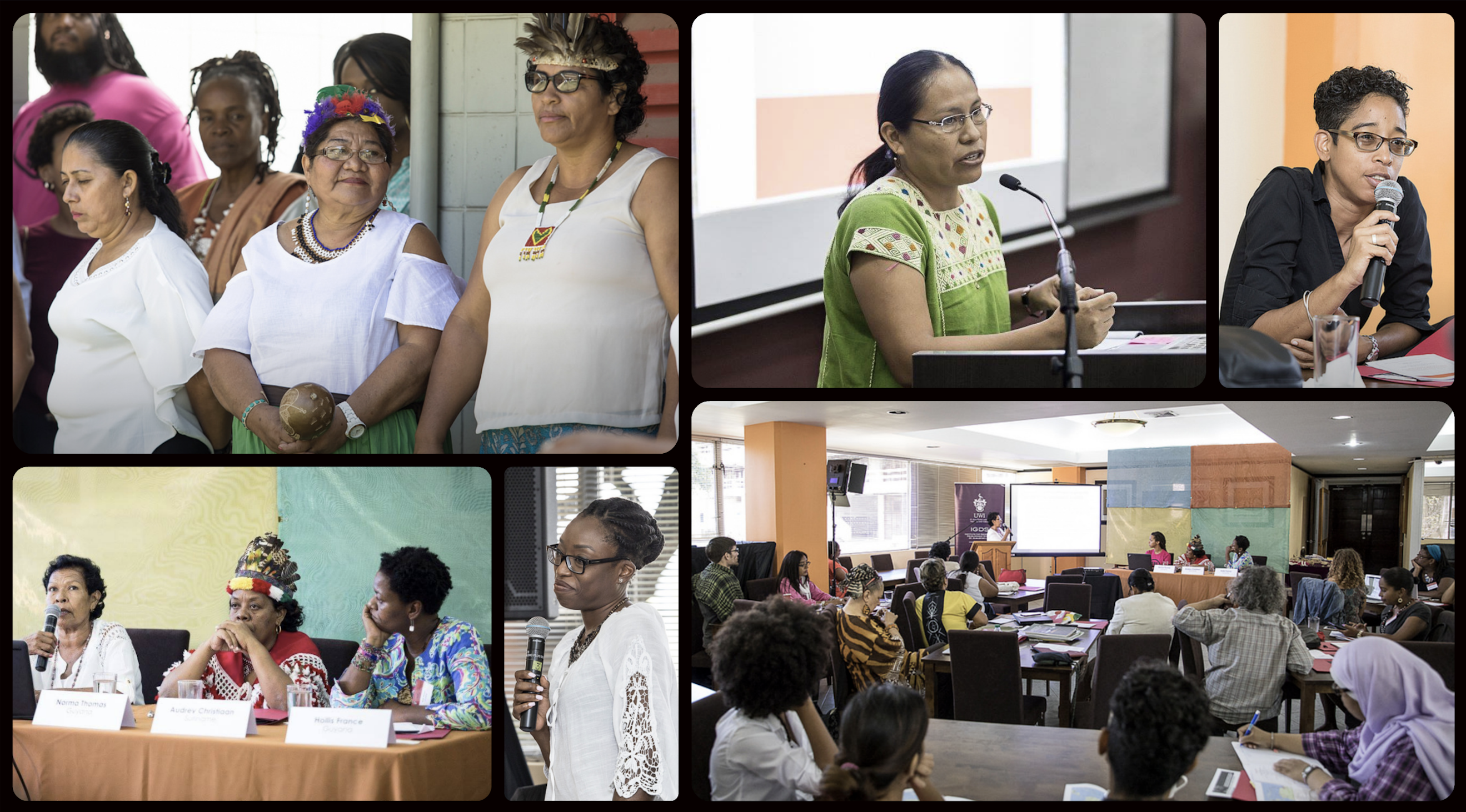 The evening of the second day, a campus-wide and open to the public keynote address showcased the radical work and decolonial praxis of Cristina Coc, a Q'eqchi' Maya land rights activist, community organizer, and spokesperson for the Mayan Leaders Alliance (MLA). Cristina, who along with the MLA has been battling the Belizean state for more than a decade to reclaim rights to the lands that have historically been theirs, provided an account of the MLA's 2015 victory in the Caribbean Court of Justice. The decision they won affirmed the rights that 39 Q'eqchi and Mopan Maya Indigenous communities (in southern Belize) have to their ancestral territories. The MLA, on account of grassroots organizing like Cristina is engaged in, has noted the case was a "historic legal affirmation … and is the first Indigenous peoples land rights victory in the Caribbean".
The final day of the workshop featured two panels – a caucus by Indigenous organizers and a debriefing session. The first panel, comprised of Lucia Regina Ellis (Belize), Kimberly Palmer (St. Vincent and the Grenadines) and Shanya Cordis (Guyana), illustrated the lasting effects of dispossession and colonial trauma, as well as the importance of care, coping, and healing. The final panel, inclusive of Faye Fredericks (Guyana), Paulette Jacobs (Guyana), Jacqueline Allicock (Guyana), and Loretta Fiedtkou (Guyana), foregrounded alternative economic development, sustainability, political representation, and women's leadership. After a breakaway meeting convened by the Indigenous participants, there was consensus that an edited book, inclusive of contributors who attended workshop, should be pursued. The symposium closed with an excursion to the Santa Rosa First Peoples Centre and Museum in Arima (Trinidad) where participants, attendees, and guests shared conversations and a communal meal that was prepared by local Indigenous community members.
Outcomes and legacies
One key goal of the workshop was to bring together Indigenous organizers from across the Caribbean and open up a space where they could speak freely and openly, on their own terms, about their experiences of, and perspectives on, topics related to domination, resistance, and hope. The other aim was to prompt candid thoughts amongst non-Indigenous scholars and sympathizers about what solidarity and accountability with Indigenous communities in the region might look like. True to the spirit of radical geography, this entailed myriad discussions of what lies at the roots of the problems Indigenous communities are facing across the Caribbean. Moreover, all participants offered illustrative explanatory analyses of the cultural situations, social complexities, environmental locales, and political convictions, i.e. "places", from which they were coming. Indigenous histories and worldviews, the mutuality communities are practicing and rejuvenating, and accounts of interconnectedness contributors felt with other organizers in differing contexts also featured prominently.
More explicitly, apropos keywords and themes in radical geography, topics ran the gamut from sovereignty, self-determination, land struggle, community mapping, Indigenous farming techniques, cultural survival, and ecological sustainability, to incisive critiques of ongoing colonial logics, state negligence, capitalist and sexual exploitation, neoliberal policy, patriarchal repression, privatization, extractivism, and postcolonial hierarchies. The stories that emerged at the workshop will be compiled into an edited collection that documents, archives, and centres the voices of the Indigenous participants, inclusive of 15 women as chapter authors. The book will be promoted, shared, and distributed across the region, as well as around the world. There is nothing like this in the Caribbean today. Eight university scholars will also contribute, with Gabrielle and Levi co-editing and curating manuscripts, abstracts, and author bios to submit to a peer-reviewed university press.
*         *         *
Call for participants for a workshop and chapters for a book, October 2016

"Indigenous Geographies and Caribbean Feminisms: Common Struggles Against Global Capitalism"
 – Abstracts due: January 1, 2017
 – Three-day workshop: March 30 – April 1, 2017
 – Contact: Levi Gahman and Gabrielle Hosein, University of the West Indies, St. Augustine Campus, Trinidad and Tobago
In shedding light upon the convergence of global capitalism, ongoing colonialisms, and hetero-patriarchal social relations in the Caribbean, feminist analyses have been at the forefront of conceptualizing both the region's politics of identity and alterity. Caribbean feminists, in particular, have also been on the leading edge of historicizing and enunciating the complex cultural dynamics and societal reverberations that continue to resonate due to the region's historical trajectories of slavery, indentureship, plantation extractivism, and hetero-masculinist governance. Feminist scholarship in the Anglophone Caribbean, however, has been less attentive to Indigenous communities regarding land repatriation, economic inequality, social exclusion, gender oppression, heteronormativity, structural violence, and political (non)representation. Given these dynamics, two exigent questions emerge:
How can Caribbean feminist social movements advance Indigenous struggles for sovereignty, self-determination, and autonomy?
What critiques of, and collective challenges to, the neoliberalizing postcolonial Caribbean nation-state are necessary to contest, disrupt, and dismantle global capitalism?
Accordingly, the goal of this workshop is to foster feminist-informed, praxis-oriented forms of solidarity and (non-metaphorized) decolonization with Indigenous people. It will also seek to further provoke mobilizations aimed at halting and abolishing the repressive products and ontological erasures being perpetuated across the region by imperialist-laid contemporary apparatuses of hierarchy and domination.
We are therefore warmly inviting sympathizers, dissidents, and compañ[email protected] to the Caribbean to participate in these efforts. Submissions for the workshop/edited collection should thus seek to grapple with the dynamics of how Indigenous geographies, worldviews, and communities in the Caribbean are situated within ever-neoliberalizing postcolonial nation-states, as well as how they are positioned amidst settler-Creole practices of belonging, processes of deterritorialization, and (false) assertions of Indigenous extinction – without adopting a politics of blame. More explicitly, in addition to the queries posited above, we are requesting that authors specifically address (one or more) the following questions in their chapter proposals:
What feminist-informed work by/with Indigenous communities is currently happening the Caribbean?
How have Indigenous communities in the Caribbean been challenging capitalist exploitation, extractivism, and ecological destruction while also promoting social justice with respect to gender and sexuality?
What forms of both domination and/or solidarity are produced by (gendered) settler Creole practices of belonging, and what possibilities and opportunities do these provide for decolonizing the region?
How have Caribbean feminists been challenging neoliberal logic and policies, as well as environmental devastation, while promoting inclusion surrounding gender and sexuality with/in Indigenous communities?
What do Indigenous movements across the world offer in terms of advancing Caribbean feminisms' inclusion of Indigenous struggles for sovereignty, self-determination, and autonomy?
We reiterate here that the thrust of this project is to further advance a recognition of – as well as an accountability to – Indigenous people and geographies in the Anglophone Caribbean. In doing so, we will create a discursive and material place where Indigenous worldviews can be shared, respectfully listened to, and amplified in culturally safe manners. Moreover, the edited collection will underscore how university workers, community organizers, and grassroots activists from/in/of the Global South can continue to produce novel and cutting-edge scholarship on the topics of transnational feminist praxis, decolonization, Indigenous Studies, anti-neoliberalism, political ecology/economy, Caribbean Studies, critical race theories, and radical geographies.
Anyone interested should feel free to submit a proposal (as a single word document file) by January 1, 2017 to the editors Gabrielle Hosein and Levi Gahman at [email protected] The chapter proposal should include:
250-word abstract (Final chapters should be 5000-6000 words, inclusive of references)
List of 4-6 keywords
100 word bio (Please include affiliation, it need neither be professional, nor academic)
Those authors whose chapters are selected will be informed by January 15, 2017 and subsequently invited to the Caribbean (Trinidad and Tobago) for the workshop (March 30-April 1). At the workshop, participants will collectively, constructively, and convivially peer review each other's submissions and attend public fora featuring speakers addressing the questions outlined above. Accepted chapters will be included in the publication of the peer-reviewed, interdisciplinary, co-edited scholarly book.